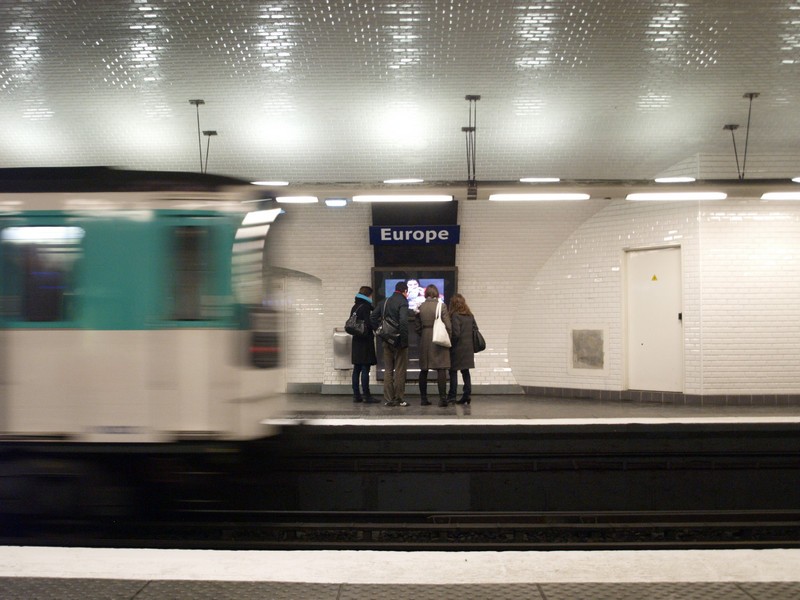 Projection
Métro Europe, Paris
6.1-2.4.2010
Curators: Hanna Alkema, Camille Lenglois, Emile Ouroumov
[pdf documentation][documentation pdf]
EN
Focusing on exchanges between emerging art scenes, PROJECTION showcases twelve artists hailing from various cultural and geographical areas. The exhibition explores self-representation by the means of the video medium. Via more or less explicit staging those emerging or well-known artists bring up the question of their relationship to creativity and the art world. PROJECTION mirrors indeed artists' inscription in a particular social and artistic microcosm and offers a multitude of points of view, often self-critical, on artist's status in today's world.
The question of the portrait is central to these approaches, a portrait drawn sideways with everyday objects for Kristina Heckova or the series of interviews with collectors, for Anca Benera.
Some of the artists, resolutely turned towards the world, are insidiously making small actions, disturbing the natural order of things. Ivan Moudov endorses, with a high sense of cynicism, the role of the artist committed to the community, disrupting and pointing the mechanisms that govern public space. Fayçal Baghriche's video adopts a similar questioning while transposing job research to the Paris underground carriages. Via a tribute to Duchamp made by a mourner from Montenegro, Vladimir Nikolic questions art history, regionalism and mondialisation.
The question of identity is an entry point for others' work. Katerina Držková, more introspectively involved, evokes a history of similarities and differences in the former Eastern Bloc, while Miodrag Krkobabic condemns in a more frontal way the aggression of our control-obsessed society. Transposition of heterogeneous territories and exploration define the works of Sebastian Moldovan and Yan Tomaszewski.
The underground station Europe, on the line 3 in Paris was a symbolically designed place for the opening of this itinerant exhibition that confronted the identity of this international community in full expansion and re-defining. Organized by a group of young international curators, the exhibition will travel during 2010 and 2011 in several European countries such as Romania, Czech Republic, Germany and Bulgaria.
FR
Procédant d'un échange entre scènes artistiques d'Europe et notamment celles de l'Est, PROJECTION présente douze artistes issus de divers contextes culturels et géographiques. L'exposition explore les modalités de représentation de soi par le biais du médium vidéo. Se mettant en scène de manière plus ou moins explicite, ces artistes, émergents ou plus confirmés, posent la question de leur rapport à la création et au monde de l'art. PROJECTION renvoie à l'inscription des artistes dans un microcosme social et artistique particulier et propose une multitude de points de vue, souvent autocritiques, sur le rôle et le statut de l'artiste aujourd'hui.
La question du portrait reste centrale dans ces démarches, un portrait élaboré de biais, avec des objets du quotidien pour Kristína He?ková ou la série d'entretiens avec des collectionneurs de divers objets quotidiens, pour Anca Benera.
Certains, résolument tournés vers le monde, agissent par petites touches troublant l'ordre naturel des choses. Ivan Moudov endosse non sans cynisme le rôle de l'artiste au service de la communauté, perturbant et pointant du doigt d'un même mouvement les mécanismes qui régissent l'espace public. Fayçal Baghriche adopte une démarche similaire en poussant à bout la logique de la recherche d'emploi, alors que Vladimir Nikolic se place à la fois dans l'histoire de l'art et la question du régionalisme et la mondialisation, à travers un hommage rendu à Marcel Duchamp par une pleureuse monténégrine.
D'autres sont préoccupés par la question de l'identité, à l'image de Kate?ina Držková qui relate les souvenirs des similitudes et différences dans l'homogénéité de l'ancien bloc de l'Est. Miodrag Krkobabi? dénonce plus frontalement l'agressivité inhérente à notre environnement au travers de la société de contrôle. L'inscription dans un territoire, l'exploration ou la transposition d'univers hétérogènes définissent les vidéos de Sebastian Moldovan et Yan Tomaszewski.
La station de métro Europe sur la Ligne 3 a été le lieu symboliquement désigné comme point de départ de ce projet d'exposition itinérant qui confronte l'identité et le regard de cette communauté internationale en pleine expansion et redéfinition. De janvier à avril 2010, sur les quais du métro, lieu d'exposition inhabituel, la vision introspective des artistes a croisé pendant quelques minutes le regard des passagers attendant leur rame, interférant ainsi avec la temporalité, le rythme et l'espace de ce lieu de transit.
Organisée par un collectif de jeunes curators, l'exposition circulera durant l'année 2010 et 2011 dans plusieurs pays d'Europe : la Roumanie, la République Tchèque, l'Allemagne et la Bulgarie.