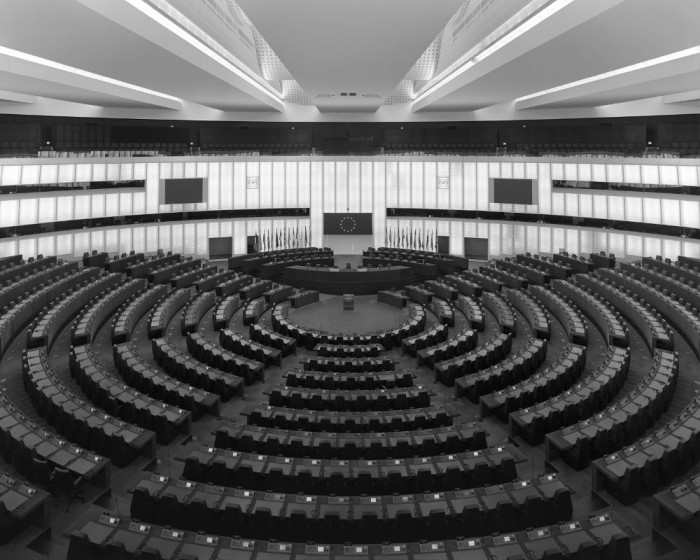 Bojan Salaj, European Parliament, Strassbourg, Interiors-Correspondences, 2014
Économie de la tension | Tension Economy
Parc Saint Léger, Centre d'art contemporain (Pougues-les-Eaux, France)
28/05–28/08/2016, opening Saturday May 28, shuttle from Paris | vernissage le samedi 28 mai, navette de Paris
Curators | Commissaires : Emile Ouroumov with | avec Catherine Pavlovic
[Exhibition photos | Vues d'exposition]
[Visitors' guide | Guide de visite]
[Press release | Dossier de presse]
[Parc Saint Léger website | site web]
Mathieu Kleyebe Abonnenc
Lawrence Abu Hamdan
Zbynek Baladrán
Éric Baudelaire
Julien Bismuth
Maxime Bondu
Anetta Mona Chisa & Lucia Tkácová
Nemanja Cvijanovic
Loreto Martínez Troncoso
Roman Ondák
Christodoulos Panayiotou
Sébastien Rémy
Matthieu Saladin
Charlotte Seidel
H.A. Schwartz-Eichstaedt-Kern-Dziurzynski-Ramones-Agrawal-Shah-Kosinski-Stillwell-Seligman-Ungar
Remco Torenbosch
Cyril Verde
Marie Voignier
Lois Weinberger
Carla Zaccagnini
FR
À travers les propositions d'une vingtaine d'artistes de divers pays et générations, ainsi que d'un groupe de scientifiques, l'exposition « Économie de la tension » vise à explorer des pratiques qui relèvent de la prise de position.
Le titre de l'exposition détourne la notion d'« économie de l'attention », théorie selon laquelle, dans un monde de surabondance d'information, nos régimes attentionnels sont désormais caractérisés par la disponibilité intellectuelle en tant que ressource rare – au risque d'une transformation des esprits en capital marchand. Comment se positionne l'art face à cette « course à l'attention », quel est le rôle et le degré d'implication de l'artiste dans la société ?
L'exposition envisage l'espace physique et symbolique du centre d'art et l'attention de son public comme outils d'analyse et mise en application des stratégies artistiques face à l'autorité des discours politiques, culturels ou médiatiques. Leur énumération non exhaustive – témoignage, examen, ironie, déconstruction, résistance, infiltration, perturbation, imposture, quête identitaire – implique une déchirure dans la hiérarchie des comportements, une tension introduite au sein du domaine artistique, citoyen et politique.
EN
Through the proposals of roughly twenty artists from various countries and generations, as well as a group of scientists, the exhibition « Économie de la tension | Tension Economy » seeks to explore in what ways these practices take a stance on current issues.
The title of the exhibition is a wordplay on the notion of "attention economy". According to this theory, in a world where information is overabundant, our systems of attention are henceforth characterized by intellectual availability as a scarce resource – thus involving a prospect of transforming the mind into a capital of commodities. What is art's attitude towards this "attention race", what is the role and degree of involvement of artists in society?
The exhibition considers the physical and symbolical space of the art centre, as well as the attention of its visitors, as tools for analysing and implementing artistic strategies concerned with the authority of cultural, media and political discourses. Their non-exhaustive list – observation, examination, irony, deconstruction, resistance, infiltration, disruption, imposture, identity quest – hints at fractures in the behavioural hierarchy, at tensions introduced in the artistic, civic and political domains.